1950s fashion has contributed to many retro and vintage inspired dresses that women of today find so inspiring. As originally, with 1950s dresses today's styles and elements such as fabrics, colours and patterns is developing at a very exciting pace.
With our popular retro vintage fashion brands HELL BUNNY and BANNED APPAREL proving so popular we thought it fascinating to delve into the influences, history and development of such an inspiring and timeless appearance. In the first of our two-part 'vintage dress' blog we look at the foundations of 1950s fashion from post war austerity to the emergence of Hollywood.
Throughout the 1940s, fashion had to be very resourceful mainly because of rationing and the impossibly decreasing supply of fabrics due of course to World War II. The somewhat predictable result was simple lines often using as little material as possible.
The 1950s made way for the new availability of manufacturing. Beginning in the United States women's fashion benefited greatly from the varying types of fabrics in much more abundant quantities resulting in less restrictive, fuller designs. New advances in mass production allowed for more garments to be manufactured at greater speed and in greater quantity than ever before. As production speed increased, clothing became more affordable, many manufacturers producing garments for the high street attempted to copy the designs of haute couture fashion houses such as Dior and Givenchy.
After the sober and mainly somber colour palettes of the 1940s – 1950s fashion heralded women's dresses with an abundance of fabric, including detailed gatherings, multi pleated designs and petticoats all made from the most contemporary fabrics.
Nylon which was no longer required for wartime parachutes, becoming a 1950s fashion essential used to make dresses, lingerie and blouses.
Cotton was still a popular choice for lighter summer clothing although it was the introduction of Dacron and Rayon reducing time consuming ironing because of non creasing materials that was seen to have great advantages. Synthetic fibres and blends reduced the dependency on sometimes costly, high maintenance wool garments and washing also became simpler with new drip-dry fabrics and garments.
The 1950's marked the beginning of one of the biggest periods of economic growth in American history and introduced consumerism that has defined a lot of culture both in America and across the world to the present day.
In 1947 Christian Dior designed his 'New Look' (as it became known) that so heavily influenced 1950s fashion. It had it's origins in mid-19th century design that included billowing full skirts, tight waist bands and an unmistakable bust line.
As the style evolved and broadened, bold, highly contrasting stripes to thin stripes on lighter backgrounds were introduced. As were bold, confident floral prints and polka dots presented in contrasting colours, such as red on white, or dark blue with white textured dots.
Embroidered designs were often featured near the hem of a wide skirt. A felt poodle appliqué became the iconic symbol of choice of 1950s style and is often still worn today on many vintage style dresses – examples can be found in seasonal collections from HELL BUNNY and BANNED APPAREL.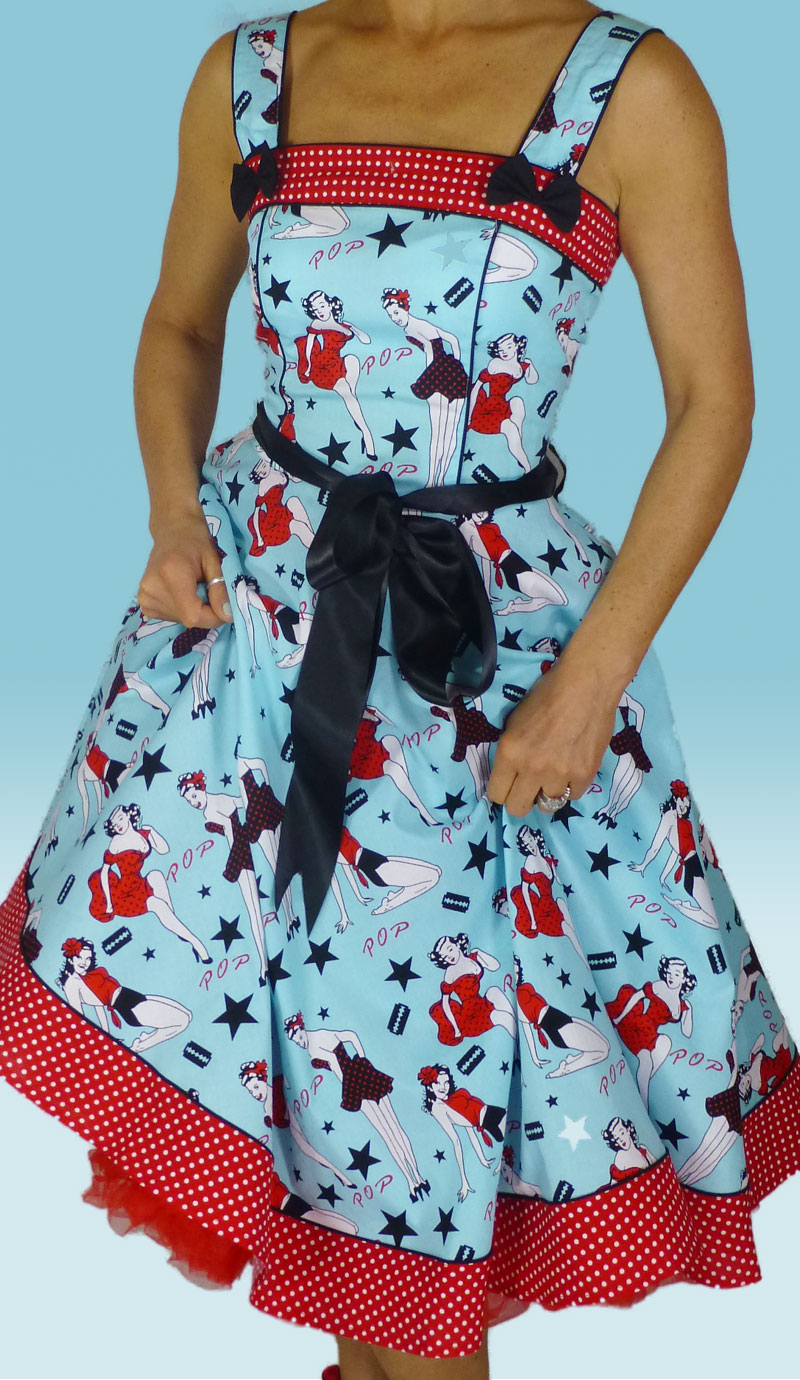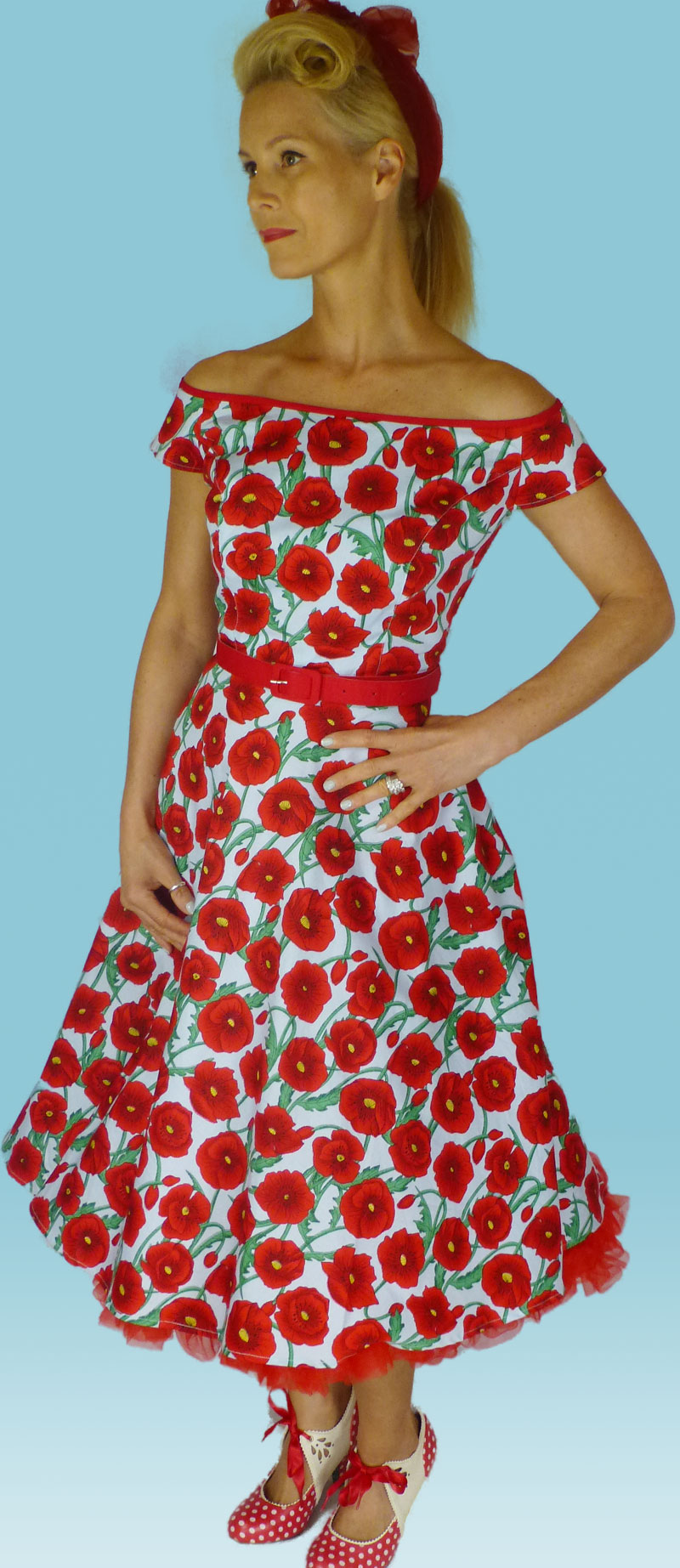 Other designers that had a vital influence throughout the 1950s were:
Clare McCardell known for her casual look using both denim and gingham. As Dior, she started designing in the 1940s and continued to design clothing throughout the 1950's.
Cristóbal Balenciaga designed and created an easy relaxed style rather than the very structured, tailored garments of the 1940s. He was also the first to compliment a loose coat with a pencil skirt creating a unique new combination. The 'A' sack dress designed in 1957 evolved into the popular shift-style dress of 1960s.
In 1955, Coco Channel launched the Channel quilted handbag, still popular to this day.
Hubert de Givenchy was best known for Paris couture with his designs based on separates with a playful flourish. With clients such as Audrey Hepburn and Jackie Kennedy his collections were guaranteed almost instant exposure.
Movie star fashion influenced the clothing styles of ladies in the 1950s. The introduction of cinema from America and television into peoples living rooms brought new fashion ideas to the multitude ensuring many people young and old were influenced by the trends set by their favourite celebrities.
Icons such as Marilyn Monroe, Grace Kelly's effortless style wearing Hermes and Givenchy inspired Audrey Hepburn created an air of elegant yet youthful grace with tight waistlines, generous skirts and pronounced bust lines. They became fashion icons that are still admired and copied today.
Doris Day symbolised a healthy, girl-next-door beauty her choice of casual clothing styles that became so popular in the 1950s.
As cinema and television swept the world, the youth market was eager to copy the 'style of the stars'. Up until that time, clothing trends had largely been set by fashion houses that catered to the more lucrative adult market with the dress style of young people simply following adult fashions.
However with the emergence of and rock 'n' roll teenage fashion quickly developed into a huge industry in its own right. Teenagers became the driving force behind 1950s fashion.
'Retro – 1950s Fashion' is the second part of this blog and will follow in the near future.
Visit our 1950s inspired vintage dresses HERE.