Sensations Pour Elle Dress & Skirt Range.
FashionFixOnline are pleased to announce our new range is now in stock.
Sensations Pour Elle offer a range of beautifully detailed Parisian styled dresses & skirts in a wide range of prints & colour ways – you'll be spoilt for choice! The French are known for their style & these dresses, with pretty detailing, radiate Parisian flare.
Ideal for holidays, these Sensations Pour Elle dresses & skirts are ultralight even though layered. They pack easily into the smallest of suitcases, taking up little space & never need ironing – a real holiday must. Easy to wash, just hang to dry. With such a wide range of unusual, gorgeous, bold prints & vibrant colours – which one will you choose?!  Each dress is individual with no two exactly the same.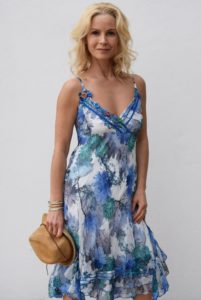 Sensations Pour Elle Parisian designed dresses come in 4 different styles – and in 3 flattering lengths.
1.The maxi sundress incorporates a tiered skirt with bow front.
2.The midi length dress has a floaty staggered hem with cross body detailing.
3.The knee length dress has a layered over skirt with frilly hem & attractive tie belt with button detail.
Each of the above 3 dresses come with practical, adjustable shoulder straps.
4.The latest maxi dress comes with cross over bodice & adjustable sleeves, which can be worn up or down to cover the tops of your arms.
The long tiered skirts look great with contrasting coloured sun tops & bold beaded jewellery.
I love all the designs, so have a wardrobe full of amazing dresses & skirts , like many of our customers. Only problem – I can never decide on which one to wear!
These dresses & skirts can be worn casually during the day with pretty sandals or pumps & with glitzy shoes for the evening. I occasionally wear mine with a pair of bright cowboy boots for an even trendier look! Team up with a little denim jacket or shrug for cooler days.
If you like to have eye catching individual looking dresses & skirts, with compliments every time you wear them, these Sensations Pour Elle dresses & skirts are definitely for you.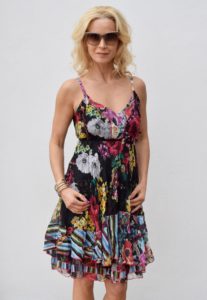 Look amazing this Summer – Happy Shopping!
Sarita x
New Spring Summer 19 Range just added online & in store.